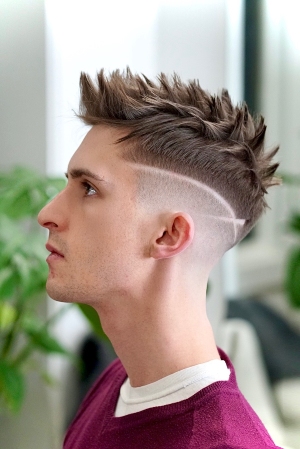 The beauty of social media is that it allows us to stay connected and constantly inspired by everyone everywhere. It keeps trends universal and sets the bar higher on creativity —a powerful push our industry desperately needs.
The cut I created here was inspired by the European texture I've been seeing across social media. I added an edge with a harder fade and line work, creating a cut where chaos meets organization. This is a cut you will soon see everywhere. It's an amazingly versatile cut. By making small adjustments to the shape, you can make this cut fit any head shape. For example, if you're going for a more casual look for everyday wear, you can tone down the texture through the top. If you want a more fashion-forward look, you can add more volume with exaggerated texture, and throw in some line work to make it stand out even more.
TECHNIQUE
Cut the top in a square position, holding hair at 90 degrees off the scalp and finger position parallel to the floor. Next, carefully place the fade to balance the head shape. To style, spray the hair with a sea salt spray and blow dry. Use a texture powder to define and create the desired texture.


AHP Indie Stylist is AHP's bimonthly publication, created to speak directly to you, the independent hair stylist and barber. In this issue:
Are you a licensed hairstylist or barber with something to share with other stylists? We would love to publish your expertise! Reach out to our editor mary@associatedhairprofessionals.com for more information.