How hairstylists can fix DIY hair mishaps
Article sponsored by Buzz Beauté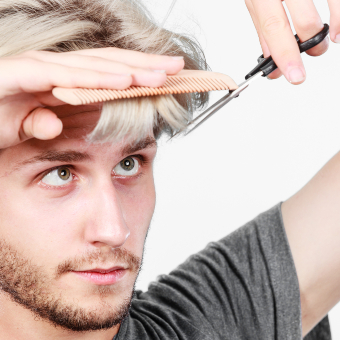 Instragram and TikTok have been flooded with pictures and videos of beauty mishaps, including those made by our favorite celebrities. Over 2 million people have watched Pink's quarantine confusion and have written more than 23,000 comments. In her March 24 post, the signer shares how she had a little too much to drink the night before and said to herself, "I can cut hair. I can totally cut hair, why have I been paying people all this time." Then she goes on to show the results of her overconfident endeavor that she admitted might need to be fixed.
Like zombies emerging into the sunlight, consumers are venturing back into the salon after the COVID-19 lockdown. While some brave souls used the lockdown opportunity to embrace their gray, grow out their bangs, and go with a ponytail 24/7, others channeled their secret desire to be a stylist going full Edward Scissorhands on themselves and in their willing family.
Regardless of the beauty path taken, there is a plea for help from consumers. In salons all over the US, you can hear, "I hope you can fix this." Like beauty superheroes, hairstylists are expected to use their superpowers and magic potions to transform bang blunders and color catastrophes into post-COVID chic styles worth of the light of day.
Like all superheroes, hairstylists are coming to save the day, and new trends are emerging to bridge the beauty gap.
Here are some of those trends:

Bobs of all lengths are being worn by Khloe, Kim, and Kylie (last name not required), and the chin-length bob inspired by Kaia Gerber

Bangs are back, but are choppy and fringy, which also helps conceal any DIY mishaps

Layers and deconstructed styles inspired by the 70's shag

Fringe and pixy cuts that offer low-maintenance style

Natural-looking curls and waves styled with decorative hairclips

Side parts and side-swept styles can disguise or distract from hair color regrowth

Whimsical and wispy updos like Hailey Bieber

Braids—from big and chucky to micro-mini—as seen all over @justinemarjan on IG

Two-tone color and bright color accents

Natural air-dry looks, perfect for the summer season and a day at the beach

As hairstylists, we would love to hear what you're doing and, of course, the quarantine confessions of your clients. Share in the comments below.

At Buzz Beauté, we have seen dozens of businesses find success through online retail and we want you to as well.