The United States beauty industry is the most prominent in the world. According to multiple sources, including Forbes, Statista, and NPD Group, the value of the US beauty industry was more than $90 billion at the beginning of 2020 and is projected to continue to grow 7–10% annually. It is no secret that consumers' concern with trends, beauty, and fashion fuel the demand for the cosmetology and esthetic industry. Further drivers include the aging millennial population, a renewed focus on self-care and clean beauty, and self-care as a coping mechanism. And the definition of beauty is ever changing, providing never-ending opportunities for the industry to innovate. https://www.toptal.com/finance/growth-strategy/beauty-industry 
COVID Impact
While the beauty industry is always expected to grow and is somewhat recession proof, it has not been spared the chaos that has accompanied COVID-19.
In an industry that thrives on personal touch and human interaction, you've had to rethink how to keep your business thriving. Quarantine, distance learning, and mask mandates have required you reimagine your industry operations.
But it's times like these that many professionals, not just beauty professionals, seek training in a new profession that remains in demand. According to the Bureau of Labor Statistics, in the United States alone, the beauty industry employs over 1million people.
Job Growth
In 2019, there were 723,000 barbers, hairstylists, and cosmetologists employed. Employment of barbers, hairstylists, and cosmetologists is projected to decline 1 percent by 2029 (www.bls.gov), but this is in part due to specialization. It is estimated that consumers will choose treatment-specific specialists for some services, rather than visit their hairstylists and/or cosmetologists. However, it's possible that this thinking will shift as the pandemic unfolds and the consumer will want a one-stop shop. This is even more reason to expand your service menu offerings. We can expect strong competition for jobs and clients at higher paying salons, and applicants will be forced to compete with a large pool of experienced hairstylists and cosmetologists.
Expand your Service Menu
Although beauty professionals are currently facing big obstacles, hair will grow out and nails will chip. With these projections in mind, there is no doubt that the benefits of expanding your treatment menu offerings not only provide you a competitive advantage, but also ultimately increase your bottom line. Continuing your education and adding to your menu keeps you fresh, helps you stay engaged with client demand, and diversifies your revenue stream.
When determining what treatments to add to your menu, consider not just the newest trends but also those services that offer flexibility to the treatment menu. We can break these treatments into two categories: the Newest and Coolest, and the Tried and True. Before exploring any of these programs, be sure you are working within your state scope and check with your state board for training requirements.
It's important to keep up with the ever-evolving industry trends and be prepared to offer your clients new experiences. Whether you're new to the business or well established, consciously staying updated on the latest trends will drive growth and draw in clients.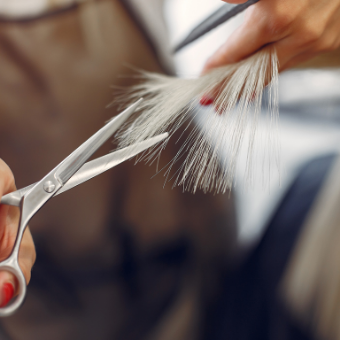 AHP Career Toolkits
The beauty industry is fiercely competitive. Hairdressers need every tool they can find to attain and maintain success. We stand with hair professionals. AHP's goal is to empower our members to thrive in their dream career.
AHP member can try our exclusive Career Toolkit with compensation calculators.
What will it cost to become an independent stylist? Use our exclusive hair industry Solo Start-Up calculator to figure it out
How much can you make? Find your revenue potential with our exclusive hair industry Revenue Potential calculator to figure it out.
Working in a big salon can be a great option, but be sure the pay structure works for you. Use our exclusive hair industry Pay Potential calculator to find the best fit for you.
Not an AHP member? Join today!
By AHP Staff
NOTES:
https://www.toptal.com/finance/growth-strategy/beauty-industry 
www.bls.gov