So Cool. So Edgy. So Right Now.
By Britt DuBose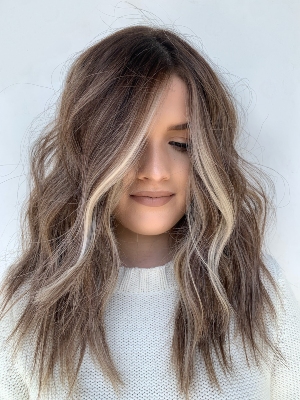 With so many of our clients continuing to hunker down at home, many of them are choosing to have a little more fun with their hair color choices by giving color blocking a go. Maybe a few bold pops of color framing the face or one bright blonde money piece. How about a pastel rainbow peeking out from underneath? With myriad options, this high-impact look is making a high-impact comeback, and we are here for it.
WHY WE LOVE IT
Color blocking allows for endless creativity. It's a chance for us to mix up our daily routines of balayage and root touch-ups and try something different, and what hairstylist doesn't love that?
WHO IT'S BEST FOR
Block coloring is ideal for anyone looking to change things up and have some fun. Bold colors over large sections work great for your edgier clients. Someone looking to add some pizazz without it being too "in your face" is a great candidate for a few sections of contrasting color placed at the nape or around the ears. And your balayage client looking for a more subtle change will be happy with a chunkier and brighter money piece framing their face.
GET INSPIRED
Above, Brittany Wright (@brit_bellasalonandboutique) is master of the bold money piece, creating beautiful lived-in color with a touch of edginess.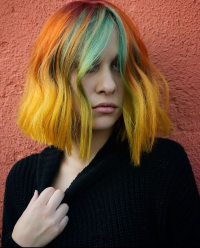 Meg Schipani (@shmeggsandbaconn)
gets uber-creative with her placement
and color combinations.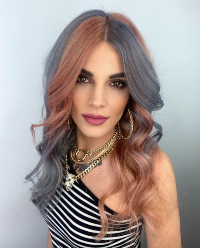 Natalie Jean (@msnataliejean)
has a knack for creating glamour
with her block color techniques.

AHP Indie Stylist is AHP's bimonthly publication, created to speak directly to you, the independent hair stylist and barber. In this issue:
► Empowerment through Creativity
Hair artist Shanna Anise empowers young people of color
► Luxe Highlights
A gray coverage upgrade
► A Call to Action
Advocate for regulation in our industry
► Take Time for the Three Rs
Give yourself and your business a kick start
Are you a licensed hairstylist or barber with something to share with other stylists? We would love to publish your expertise! Reach out to our editor mary@associatedhairprofessionals.com for more information.