The legendary Vivienne Mackinder made the following post about the importance of attitude on her blog yesterday and we had to share. This advice from an iconic legend is worth listening to.
Hello my fellow hairstylists, artists, and members!
Today I want to talk about a subject that can, literally, make or break your career….
ATTITUDE
Your attitude toward your career can either inflate or deflate your progress toward your goals. Attitude is the one characteristic that can, and will, hold you back from moving forward!
Do you spend time hoping your salon business will grow, or do you spend time developing actionable plans for growth?
Zig Ziglar once said "It is your attitude, not aptitude, that will determine your altitude."
The way you perceive your capabilities will affect the way you pursue your desires.
In order for you to reach that next career goal, you must, first, believe you can! Then, follow that belief system with creating small actionable steps that will ultimately lead to big progress!
Even after 40 years in the industry, I still have goals I am trying to achieve. I have mentors and team members who I turn to in order to help me achieve these goals. I am so thankful that when my attitude seems to be falling short, I have people who love me enough to help me bounce back!
It's OK to have setbacks, but it's not OK to let those setbacks define your comeback!
When you have downtime in the salon tomorrow, I challenge you to measure your career progress against your daily attitude. See if there are changes you could make in the perception of your capabilities! You never know what you might become aware of. Maybe that will lead to some goal setting!
It's time to level up … your attitude AND your career!
As always, I would love to hear from you guys! Post your thoughts in the comment section below!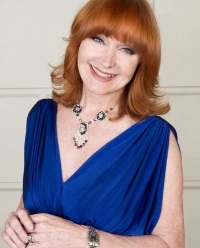 Vivienne Mackinder
Founder of HairDesignerTV.com (among so many other incredible accomplishments)
Vivienne Mackinder • Instagram • Facebook