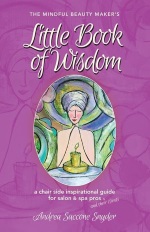 I recently read an article from Modern Salon about Andrea Saccone-Snyder and her new book, The Mindful Beauty Maker's Little Book of Wisdom. I was so inspired by the article that I immediately ordered the book and I've got to say: it didn't disappoint! Naturally, I had to share it with you guys.
This new book is a chair-side inspirational guide for salon and spa pros everywhere.
"Of all the tools that salon professionals have at their fingertips, The Mindful Beauty Maker's Little Book of Wisdom is one of the most vital. Within its beautifully designed pages, the messages, affirmations and activities, when put into action, empower body, mind and spirit." (Redken's former VP Of Global Communications, Ann Mincey)
I couldn't agree more! If you've ever felt depleted after a day behind the chair, questioned your career path, worried your creativity was diminishing, or just needed some personal motivation to be your best possible self, this little inspirational book has you covered.
Andrea Saccone-Snyder is owner of FLOW Beauty and founder of The FLOW Beauty Project, which empowers salon pros and others to nurture their inner and outer beauty while reclaiming their most creative selves. A third-generation stylist/owner with an education in the fine arts, Andrea is marrying her 25+ years in the beauty industry with her training as a Life Coach to help transform lives.
Happy Reading & Self-Growth,

Ali Davidson
AHP Director of Membership