Changing with the times is essential—and it starts with rebuilding your clientele
by Jaime Schrabeck, PhD
This column appears in Volume 1, Issue 3 of AHP Indie Stylist magazine
Will any beauty professional emerge from the experience of this year unchanged? Not likely, myself included. Having recently returned to work for a second reopening, I realize how much has changed already. The consistency and reliability of my salon operations, which I've worked for decades to achieve, have been replaced by uncertainty. While that makes me uncomfortable, I must develop new routines to handle my responsibilities as a salon owner, manager, and service provider. My priority has always been on existing clients; the individuals who month after month, year after year, support my business. Protecting their safety, doing quality work, and showing appreciation for their loyalty remains of the utmost importance. But in this new environment, we all need to adapt how we keep loyal clients and find new ones.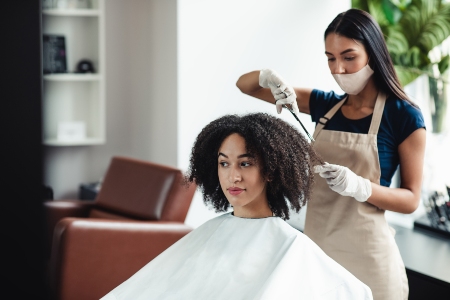 ADAPTING APPOINTMENTS
To eliminate the time wasted in negotiation and the stress of trying to accommodate every client's desires and availability, I encourage a policy of standing appointments. Requiring reservations for appointments gives clients incentive to plan ahead. Before the pandemic hit, every summer, I'd reserve standing appointments for the following calendar year with the understanding that adjustments could be made for holidays, travel, or the unexpected. Whenever possible, my nail technicians and I would provide services simultaneously to maximize resources and limit the time clients spent at the salon. Clients responded very positively to this time-saving feature, and our busy schedule reflected that.

So much for planning ahead. The first closure in March made all those appointment reservations defunct. The subsequent reopening and closure in late June/early July invalidated another laborious attempt to reschedule clients. Most clients were excited to return, but some chose to wait, and others would never return. Now that the salon has reopened yet again, I'll be fortunate to finish this year without further disruption. Being cautiously optimistic feels strange at this stage in my career. When I look at next year's empty calendar, I'm resisting the urge to plan ahead. In past years, the appointment schedule would already be filled to 60–75 percent of available capacity. Plans for 2021 will have to wait until I'm confident that further guidance will not impact my ability to operate, including service procedures and timing.

AHP Indie Stylist is AHP's bimonthly publication, created to speak directly to you, the independent hair stylist and barber. In this issue:
Are you a licensed hairstylist or barber with something to share with other stylists? We would love to publish your expertise! Reach out to our editor mary@associatedhairprofessionals.com for more information.