By AHP Staff
When was the last time you looked in a phone book? Some of you have never even seen a phone book! The phone book had its day, but those days are long gone. Where do you look when you need a new car, get a mani-pedi, or purchase literally any product or service? You've got it . . . Google! It's become a household word. Your clients are just like you. When they need a shave, cut, or color, they will look online. The internet is part of our everyday culture.
Your hair salon or barber shop might be on a busy street corner and have a big, beautiful neon sign, but how many potential hair clients will never be on that street? They'll never see your thousand-dollar sign. Instead, when they are searching for a local hairdresser or barber, they'll search on Google. If you don't know it by now, you need to have an online presence. Hopefully, you have already created a hairstylist website, but if you haven't, make that a priority this week. It's time to shine online! If you do have a hairstylist website for your business, some of these tips may help you turn "surfers" into clients.
How to Create a Website Homepage
The homepage of your hairstylist website is so important because potential clients are window shopping online. A potential client landing on your homepage is just like the potential client walking by who glances in your salon window. What do you want the potential client's first impression of your hair salon to be—clean, colorful, organized, trendy, classic, hip? Is it inviting enough to make them want to come inside? If they don't have the time to check out every page of your website, make sure your contact information is clearly visible on your homepage. It's the same reason brick-and-mortar businesses post their phone number and website on their front windows. You don't want potential hair clients to have to work to get in touch with you. They may not bother and will move on to a different site.
How to Create Engaging Website Content
Let's say a potential hair client sees your homepage and decides to enter your hairstylist website. They are looking for more information, so make sure they can find what they want. What do they want? Think about what information you look for when you visit a service industry website. You look for their hours of operation, as well as whether they are by appointment only or if they accept walk-ins. You'll want to know the services they offer, what their prices are, and some pictures of their work. Some hair professionals don't want to list their prices on their website, but put yourself in the clients' shoes. Would you want to book a cut and color if you had no idea how much it was going to cost? I wouldn't. It might be $150 or it might be $500! If they do book the hair appointment without asking for a price, you don't want your client to have sticker shock at the end of the service. They will most likely never return. This doesn't mean you have to lock yourself into an absolute price, but even a general ballpark price—or listing a "starting at" price—will be appreciated.
Then show off your amazing talent and creativity on your hairstylist website! This gives a potential client confidence that you're the hairstylist or barber they've been looking for. They will feel comfortable after seeing examples of your expertise before they even sit in your chair. Show your clients what you're capable of and get them excited to meet you.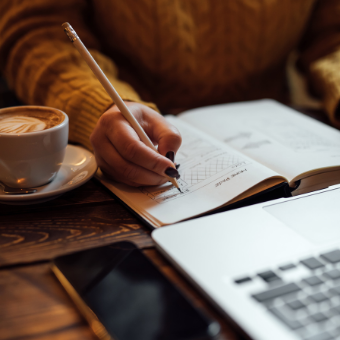 Make the User Experience Great
When you visit another business's website and had a great experience, what made it great? Were you able to book an appointment online with your dentist when you lost a filling at midnight instead of having to wait until morning to call them? If you don't offer online booking, you should seriously consider adding this function to your site. It's super easy, and people love the convenience of booking online and not having to pick up the phone and search for a phone number. They can also book a service with you any time, day or night. When you create your hairstylist website, making those booking options available will go a long way.
You could also offer helpful aftercare instructions for chemical hair services you offer. If the client forgets what you've instructed them to do or not to do after the hair service, they can find the information they need online. Does your salon or barber shop have new client forms that can be accessed online? That saves time during the appointment and gives you time to review what the client's current hair regimen is and what they are expecting from their hair service.
One more important consideration is client hairstylist testimonials and reviews for your hair services. Share client testimonials on your website for virtual word-of-mouth marketing. You could even ask your current clients who love what you do for them if you could shoot a short video of them on your phone. Then create a client testimonials page on your website. Very powerful marketing!
Direct Traffic to Your Hairstylist Website
Now it's time to do everything possible to direct traffic to your hairstylist website. Link your social media accounts to your professional website. List your hairstylist business and link to your website on local online directories. Blogs are an excellent way to help your website climb the search engine rankings and drive traffic to your site. You should post a blog at least three times a week. Swap links with other local businesses' websites. Run social media contests in which your clients share a link to your website to their social media followings, and if they do, reward them with an add-on service or a bottle of their favorite conditioner. The goal is to have your online presence be popular enough to drive clients to your brick-and-mortar business.
A social media presence for your salon is very important, but a business website sets you apart from the crowd as a professional. A professional hairstylist website can be a client-generating gold mine. Don't miss out on potential clients and opportunities by not having a website.
Hairstylist Website FAQs
How much does it cost to set up a hairstylist website?
Luckily, there are many options to set up a website for free. Here are some options for you to check out:
What makes a good hairstylist website?
It should have a clear purpose.
It should be visibly pleasing.
Make navigation easy.
It should be functional and useful.
What should I NOT put on my hairstylist website?
Most people find the following very annoying:
Automatic sound/music
Pop-ups
Huge images
Animated banner ads