Maximizing the visual appeal of the backbar is a surefire way to create conversation starters for add-on services applied at the backbar or shampoo bowl. Blake Reed Evans (@blakereedevans), Sam Villa Ambassador and owner of Shear Art Salon in Tampa, Florida, gives 5 tips on how to increase backbar business.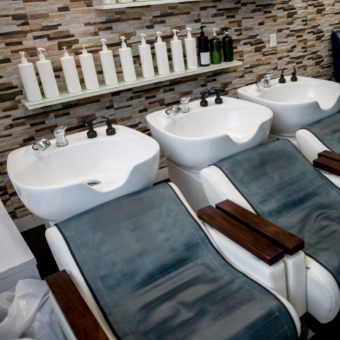 Merchandise: Make sure treatments/offerings are visual. Brands like Kérastase and Redken offer beautiful backbar displays that create conversation and pique guests' attention.

Cleanliness: Keep the backbar in immaculate condition. Face all the shampoo and conditioner bottles forward and make sure all product and shampoo bowls are clean and free of hair.

Inventory: It's imperative to always have enough product on hand, while not having too much. The best way to keep track is to monitor how much is being used every week. Constant checking will keep inventory at the appropriate level for staff.

Add-On Services: Offer customized services with optional add-ons at the shampoo bowl and communicate the offerings consistently across all platforms. Think email lists, text blasts, social media, and most importantly, make sure the front desk team is constantly offering upgrades to guests when they are booking appointments.

Pricing: The clearer the communication is with the guest on WHY the add-on product/service will benefit them, the more receptive they will be to purchase it. Offer low, mid-tier, and high price points—the lower and higher ones exist to make the middle-tier look like the perfect splurge.
AHP member benefits include exclusive access to more hair care tips, industry updates, and educational resources.